Overview of Services
The core assists investigators with incorporating Rigor and Reproducibility into their research by performing rigorous statistical and bioinformatics analysis.
The core provides consultation for grant preparation in the following areas:
(1) Study design, including treatment arms, sample size and power calculations
(2) The review and discussion of protocols involving the generation of data prior to submission to the funding agency
(3) The protocol development for statistical analysis and bioinformatics analysis
(4) Enforcement of authentication for key biological and chemical sources
Research Collaboration: The core will provide high-quality statistical and bioinformatics support for the proposed projects. We will develop and implement statistical methods and bioinformatics software that is optimized for the proposed study and the targeted dataset. If substantial efforts are required for the core to participate in the proposed project, a budget request should include the time efforts of the core personnel. Investigators are welcome to discuss such opportunities for collaboration.
Leadership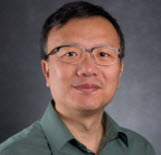 Kurt Zhang, PhD
Director of Rigor & Reproductibility Core
713.677.7476
kzhang@tamu.edu

Location and hours of operation
Hours
Location

Monday-Friday
8:00 am - 5:00 pm

Institute of Biosciences and Technology
2121 W. Holcombe Blvd
Houston, TX 77030
Links and Resources